|
A Change In Plans,
by Timothy Schneider, Publisher, Association News
|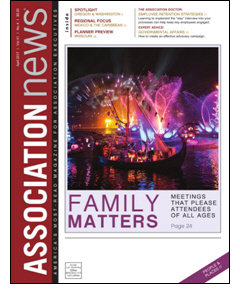 Los Angeles, CA – April 2017 / Newsmaker Alert / No meeting planner ever wants to postpone an event. But as the organizers of Meetings Quest—the nation's longest-running series of educational and networking events for meeting planners—we were faced with just such a situation last month. Winter Storm Stella caused the cancellation of most flights to and from the Northeast in the days when our attendees would have been traveling to Meetings Quest in Atlantic City.

Thanks to our great partners at Meet AC and the Borgata Hotel, Casino & Resort, we were able to reschedule Meetings Quest within a few hours of deciding to postpone the event. We are pleased to announce that the new dates for Meetings Quest in Atlantic City are June 28–29, 2017.

An ideal destination for conferences and events of all sizes, Atlantic City is America's original beach resort destination. It is especially popular in the summer months and we are thrilled that Meetings Quest attendees will now be able to experience Atlantic City during one of its peak seasons.

We are also pleased to announce the scheduling of another excellent networking opportunity for meeting planners and travel-industry professionals. The Shamrock Shootout Golf Classic—the longest-running golf tournament in the hospitality industry—has been scheduled for October 9, 2017, in Las Vegas. The event has been named the exclusive golf tournament of the IMEX America trade show, which will be held October 10–12 in Las Vegas.

The Shamrock Shootout dates back to 1987 when legendary D.C. meetings-industry leader James T. "Jimmy" Dunn, founder of Meetings Quest, gathered three friends for a round of golf on a cold and blustery March 17. With wind-chill temperatures in the 30s and wind gusts up to 25 miles per hour, the friendly competition was destined to become an annual get-together for hospitality industry professionals. In 1992, Dunn renamed the event the Shamrock Shootout in honor of its origins. Beginning in 1998, the Shamrock Shootout was held in the same week as ASAE's Springtime trade show, which was discontinued in 2016.

In 2017, the 30th anniversary of that first golf outing, the 25th anniversary edition of the Shamrock Shootout Golf Classic will allow participants to start IMEX week on a high note and in high spirits. The compact, fast-moving tournament schedule will allow golfers to fully participate in the IMEX America Smart Monday program, including Association Focus. Winning foursomes will be recognized during the program and participant plaques and prizes will be distributed in the IMEX America registration area.

For further information on the Shamrock Shootout at IMEX America in Las Vegas, please visit ShamrockShootout.com. For more information on Meetings Quest in Atlantic City, June 28–29, please visit MeetingsQuest.com, see the ad on page 33 or call 877-577-3700. Future Meetings Quest events will be held in Plano, Texas, and on the Mississippi Gulf Coast.
|


Timothy Schneider is the publisher of Association News and SportsTravel magazines, which serve group travel planners responsible for generating 156 million hotel room nights annually. Schneider Publishing also organizes Meetings Quest, America's longest-running series of trade shows for meeting planners, and the TEAMS Conference & Expo, the world's largest gathering of sports-event organizers. TEAMS '17 will be held October 30–November 2, 2017, in Orlando, Florida. For further information on advertising or sponsorship opportunities, please call toll-free 877-577-3700 or 310-577-3700 if calling from outside the United States.
The current issue of Association News can be viewed in digital format online by clicking here.
|




|
Media Contact:
Timothy Schneider
310-577-3700
Schneider Publishing Company, Inc.