Back To News/PR Index
|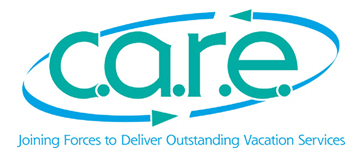 |
C.A.R.E. Extends Early Bird Registration Rates
for Fall Conference
|

Harrisonburg, VA – August 2017 / Newsmaker Alert / C.A.R.E., the Cooperative Association of Resort Exchangers, has extended their early bird registration rates for its 65th conference to be held at the Anaheim Marriott Suites, Garden Grove/Anaheim, CA from October 14-17, 2017. Early registrants can now save up to $175.00 per person when they register by September 1st.

C.A.R.E., and its members, are constantly seeking new conference attendees and association members; is that you? Consider this…are you ready to create a new revenue source for that excess, unsold and/or delinquent resort week inventory? Or maybe you are a club or travel agency that is in search of more weekly resort rentals to increase vacation fulfillment opportunities? C.A.R.E. could be the conduit that you've all been searching for…we've got inventory buyers and sellers ready to make new connections attending every conference. C.A.R.E. members can share inventory via week-to-week exchanges, weekly wholesale rentals, guaranteed and free-sale blocks as well as year-round and seasonal leases all over the world. C.A.R.E.'s Supplier Search System offers an easy and automated online platform that conveniently brings all these opportunities to fruition for C.A.R.E. members.

C.A.R.E. conferences are also a great value proposition for those service related entities looking for new business partners. Many C.A.R.E. conference attendees are always in need of value-added benefit enhancements to strengthen their core missions.

C.A.R.E. Conference Highlights
"C.A.R.E. Gives Back" - In Anaheim, volunteers will act as production assistants and support the transformation of eight breast cancer survivors with Send Me On Vacation's (SMOV) "Mermaid Journey"; a wellness program that guides survivors to let go of the fear and anger that battling breast cancer brings and create a more abundant life.
Keynote Speaker - Rebecca Taylor Shaw, CCH, CMT, a premier thought leader on the topic of success strategies and personal development will present "The Secret Energy of Money". Shaw's presentation is designed to help identify hidden money blocks and teach participants to unlock the secret energy of money thus enabling them to break through the glass ceiling of their earning potentials and take their businesses and careers to the next level.
Featured Session - To Rent or Not to Rent: A Guide to the World of OTA's. Caleb Dixon, QM Resorts' Corporate Revenue & Reservations Manager, will lead a discussion revolving around his personal experience of entering the retail sector via the world of OTA's.
Networking Events – As with every conference or trade show, networking events can typically be the most beneficial thing you participate in and C.A.R.E. will be no different.

C.A.R.E.'s Got Game Night opens the conference with an ice-breaker party -where fun and interactive networking opportunities abound!
Round Table Networking will put a spin on the traditional speed networking and enlighten attendees on various sectors of our industry.
C.A.R.E.'s Infamous Roll Call gives attendees a chance to hear from every member so that they know who they need to be networking with!
The historic Queen Mary, will be the venue host of C.A.R.E.'s awards night where attendees will have the opportunity to participate in a private Haunted Encounters Tour of the ship and possibly encounter some "murder and mayhem".
Closing Night Blues – you will not have the blues attending a C.A.R.E. conference…but you might experience some Blues Brothers and rock-n-roll as we close the conference at the House of Blues®, new 2017 location, at the Anaheim GardenWalk on West Disney Way.
Take advantage of this extended Early Bird registration opportunity through September 1, 2017. To register and attend this conference or find out more about this exciting event, please visit www.care-online.org, contact C.A.R.E. via e-mail at info@care-online.org or call 800-636-5646.

About C.A.R.E.
Established in 1985, (C.A.R.E.), www.care-online.org, the Cooperative Association of Resort Exchangers, is one of the industry's leading associations in ethical standards and value propositions. Its internationally diverse member base includes Resort Developers, Management and Exchange Companies, HOA's, Travel Clubs and Wholesalers as well as many respected industry suppliers bringing value-added revenue enhancement opportunities. Members that possess rentable inventory or seek inventory for fulfillment of rental requests set the foundation of C.A.R.E. with a multitude of scenarios for securing client vacations, increased inventory utilization and heightened yield management. C.A.R.E. members have the ability to share inventory via week-to-week exchanges, weekly wholesale rentals, guaranteed and free-sale blocks as well as year round and seasonal leases all over the world. C.A.R.E. members must comply with a strict Code of Standards and Ethics and will undoubtedly gain professional and personal development by attending C.A.R.E. Conferences. With nominal annual membership fees and some of the industry's lowest conference registration rates, C.A.R.E. can prove an undeniable value and return.

C.A.R.E. Contact:
President Linda Mayhugh
800-636-5646, extension 700

Media Contact:
Bonnie Kosco
C.A.R.E. Administrator
800-636-5646 / 540-828-4280