Back To News/PR Index
|



|

Clear Channel Airports Awarded Five Year Contract

Renewal with Clinton National Airport (LIT)

to Provide Cutting Edge Media Network

|

New Five-Year Extension Will Help Advertisers Reach

1.9 Million Annual Passengers at Vibrant Airport

|

Little Rock, AR – September 2017 / Newsmaker Alert / Clear Channel Airports (CCA), a brand division of Clear Channel Outdoor Americas (CCOA) (NYSE: CCO), and a subsidiary of iHeartMedia Inc., announces it has been awarded a five-year partnership renewal with Bill and Hillary Clinton National Airport (LIT) to provide state of the art advertising solutions. The latest advertising network will allow brands to reach approximately 1.9 million annual travelers passing through the airport. The new agreement went into effect on June 1, 2017 with the new advertising program launching December 15, 2017.

Clear Channel Airports has been the incumbent concessionaire at Clinton National Airport since 2012. Clinton National Airport is Arkansas's largest commercial service airport hosting five airlines with dozens of daily departures and nonstop service to 12 destinations. A $25 million concourse renovation is nearing completion.
|

|
As the capital of Arkansas, Little Rock is a cultural, economic, government, and transportation center within Arkansas and the South. Industries currently driving economic growth for the city include advanced manufacturing, aerospace, innovation, healthcare and non-profits.

The new advanced advertising program at Clinton National Airport will include an aesthetically balanced network that integrates technology and symmetry to deliver advertising messages in creative ways while enhancing the passenger experience. Specific elements include:
An LED Video Wall;
Lit Tension Fabric Displays; and
A Digital Reservation Center.
"We're pleased that Clear Channel Airports will provide additional high-tech opportunities to help businesses reach their marketing goals," said Ronald F. Mathieu, airport executive director. "Research shows that the demographics of Little Rock passengers are among some of the most sought after, which can make airport advertising very effective."
|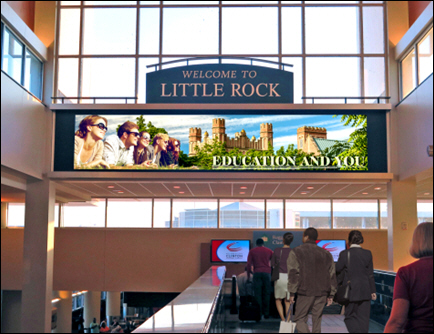 |
"With growing passenger traffic and the flourishing economy of Little Rock, this is a very exciting time for us to extend our partnership with Clinton National Airport," said Morten Gotterup, President, Clear Channel Airports. "Little Rock continues to draw a highly educated, affluent frequent flyer passenger base making Clinton National Airport a very attractive advertising venue for national and regional brands. We are eager to begin implementing our new media network that will surely take the passenger experience to the next level."

Clear Channel Airports representatives will be at the Clinton National Airport the week of September 18. For an appointment to see demonstrations and renderings contact Dan Devine, Project Sales Manager, 610-944-2130 or danieldevine@clearchannel.com.

About Clear Channel Airports
Dedicated to airport advertising for more than 40 years, Clear Channel Airports is the premier innovator of contemporary display concepts. The Company, a division of Clear Channel Outdoor Holdings, Inc. (NYSE:CCO), one of the world's largest outdoor advertising companies, currently operates more than 280 airport programs across the globe and has a presence in 32 of the top 50 U.S. markets with major airports. More information can be found on Clear Channel Airports and Clear Channel Outdoor by visiting www.clearchannelairports.com and www.clearchanneloutdoor.com.

Like us on Facebook at Facebook.com/CCOutdoor
Follow us on Twitter at Twitter.com/CCOutdoorNA

Media Contact:
Clear Channel Airports
Jason D. King, 212-812-0064