Naples, FL – March 2018 / Newsmaker Alert / Kristin Stroh, a real estate industry veteran with over a decade's experience in Collier County, has been named Realtor Liaison for furnishings retailer and design powerhouse Clive Daniel Home. In her new role, Stroh will lead the company's Realtor Rewards Program.

Commented President and CEO Daniel Lubner, "Kristin's existing relationships and experience in the local real estate arena are instrumental in supporting our business development efforts and forging new relationships with realtors within our community."
|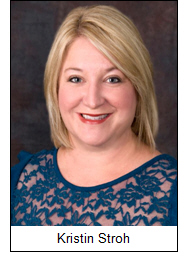 Kristin Stroh was most recently a sales associate at Stock Realty and prior to that with Premier Sotheby's International Realty in Naples. For over eight years she was a multi-million-dollar producer and Realtor for Premier Plus Realty, Co. For more than nine years, Stroh was a Sales Account Executive at the Naples Daily News with a client focus on real estate and developers. Earlier experience included work with the Ocean Reef Club in Key Largo and at The Media Edge in New York City.
Originally from Buffalo, she holds a B.S. degree in Advertising from the University of Tennessee. She can be reached at 239-784-7196.
Stroh will work closely with Jackie Nelson, Director of Business Development, in also reaching out to area builders, hospitality properties and commercial businesses that will benefit from design renovations and improvements. She will also work with the Naples Area Board of Realtors and the Women's Council of Realtors.
Clive Daniel Home's Realtor program focuses on developing relationships with area realtors and brokers in order to provide the best customer service to their buyers. The program provides a complimentary gift card to the agent's buyers as a welcome gift for their new home. She also matches an interior designer with the new homebuyer to help them select furnishings that fit their preferred design style and visualize what may be done with unique spaces.
Says Stroh, "Our goal is to give an edge in this competitive industry by providing additional services to their high-end/luxury new homeowners, even after the sale, resulting in having satisfied and happy homeowners. I am proud to be a part of Clive Daniel Home because of its many charity sponsorships and its heavy involvement in this community. It's a supportive company that thinks outside the box."
The 85,000 square-foot flagship Clive Daniel Home (www.CliveDaniel.com) showroom, located on U.S. 41 in Naples, opened in November 2011 by innovative retailers Clive and Daniel Lubner. During that time, the company has won over 240 awards for design excellence. Contact Dan Lubner at 239-292-3717.
Clive Daniel Home: Hospitality Division | Facebook | Twitter | Instagram | Houzz
Media Contact:
Marge@LennonCommunications.com
for Clive Daniel Home
239-841-0553