Back To News/PR Index
|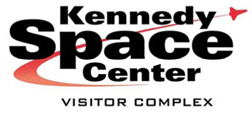 |
It's not a Bird or a Plane – It's a Mars Rover!
|
Kennedy Space Center Visitor Complex Kicks Off
the Summer of Mars Experience Tour
|
Mars Rover Concept Vehicle to make stops in
Atlanta, D.C., New Jersey and New York City
|

Cape Canaveral, FL – June 2017 / Newsmaker Alert / A car trip on I-95 this July and August might bring with it more than just the usual sights. Passers-by could be lucky enough to catch a glimpse of an extraterrestrial convoy, as a massive Mars rover concept vehicle, commissioned by Kennedy Space Center Visitor Complex, makes it way on a custom-trailer up and down the East Coast for tour stops in select cities. The vehicle will make its first stop in Atlanta for a three-day stay at the Sun Trust Stadium beginning July 14, and will then make its way to Washington, D.C., Jersey City, and New York City, returning to Cape Canaveral in late-August.
|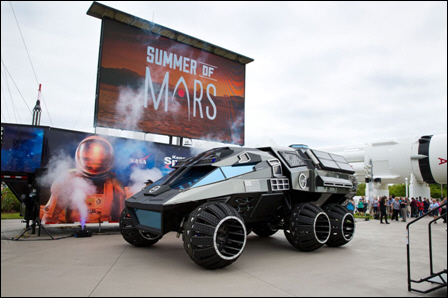 View Additional Images

|
A highlight of the Summer of Mars campaign at Kennedy Space Center Visitor Complex, the Mars rover was designed as a traveling exhibit to inspire the public about space exploration and interplanetary travel. The 5,500-pound, nearly 11-foot tall rover will be on display at the visitor complex through the end of June, at which point it will begin its East Coast tour.

"At Kennedy Space Center Visitor Complex, we create immersive space experiences for our guests," said Therrin Protze, chief operating officer, Kennedy Space Center Visitor Complex. "The Mars rover will give guests a front row seat to NASA's Journey to Mars and bring the future of space exploration to life for the generation that will first step foot on Mars, as they see and learn what it will take to travel the landscape of the Red Planet."

In addition to the Mars rover, the free Summer of Mars Experience will include interactive games that allow consumers to learn about plant life and habitats on Mars, virtual reality which will transport visitors to the Red Planet, periodic pump rocket launches, photo opportunities, premium giveaways and more.

Tour dates are as follows; for specific information and times, visit www.KennedySpaceCenter.com.

July 14-17, 2017 The Battery Atlanta at Sun Trust Park, Atlanta, Ga.

July 21-23, 2017 National Air & Space Museum, Washington, D.C.

July 29-30, 2017 Liberty Science Center, Jersey City, N.J.

August 2-6, 2017 Intrepid Sea, Air & Space Museum, New York, N.Y.

August 12, 2017 North Point Mall, Alpharetta, Ga.
|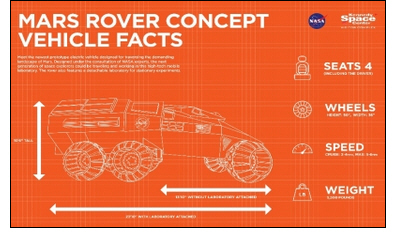 Built by Cape Canaveral-based Parker Brothers Concepts, with input from NASA-engineer science and specifications, the Mars rover seats four passengers and was built to handle the climate, conditions and environment on the Red Planet as they are currently understood. It is a dual-purpose vehicle that can be used as either a small scout vehicle or a full research laboratory and features carbon fiber accents, solar panels and 50-inch wheels that are specifically designed to let the fine sands of Mars slip through. It is powered by a 700-volt battery and is meant to travel over dunes, rocks, craters and hills at 2 – 5mph. The Mars rover was created to be as realistic as possible for educational purposes, but won't be making the trip to Mars.
The focus on Mars as the next space destination is incorporated as a theme throughout Kennedy Space Center Visitor Complex. Mars-themed activities include the Journey To Mars: Explorers Wanted live theater and interactive experience; the Journey to Space 3D film in the IMAX® Theater; a special edition of Science on a Sphere – Red and Blue – about the Red Planet, a custom 3D Eyes on the Red Planet presentation highlighting the last two decades of our robotic exploration on Mars; and Cosmic Quest, an interactive game that includes missions to Mars like building a Mars habitat.
The culmination of the Summer of Mars campaign will be the opening of the new Astronaut Training Experience (ATX) center. Scheduled to open in fall 2017, it will offer an experience unlike anywhere else, and, along with the companion program Mars Base 1, will bring guests as close to training, living and working on the Red Planet as possible without leaving Earth. In the ATX center, groups and individuals will experience training like a real astronaut using virtual reality and simulators. Training activities include landing on Mars, walking on its surface, driving on the rough terrain and experiencing microgravity. Or they can spend the day working on Mars as a rookie astronaut on Mars Base 1. Guests will be transported to the Red Planet, dock with Mars Base 1 and work in the Plant Lab, operate robotics and solve engineering challenges – just like the astronauts who will one day travel to Mars. Technology such as floor-to-ceiling 4K screens will create a realistic experience and participants will feel as though they're actually being transported to Mars. Each guest will receive a summary of activities including STEM subjects utilized and suggested future careers related to the day's accomplishments.
About Kennedy Space Center Visitor Complex
Kennedy Space Center Visitor Complex brings to life the epic story of the U.S. space program, offering a full day or more of fun, inspiration and educational activities, including its newest attraction, Heroes & Legends, featuring the U.S. Astronaut Hall of Fame®, presented by Boeing, which opened November 11, 2016. Other highlights include the Kennedy Space Center Tour featuring the Apollo/Saturn V Center with an actual Saturn V moon rocket, Space Shuttle Atlantis®, Shuttle Launch Experience®, IMAX® A Beautiful Planet 3D and Journey To Space 3D films, Astronaut Encounter, Journey To Mars: Explorers Wanted, Science on a Sphere®, Rocket Garden, Cosmic Quest, and many other exhibits. Only 45 minutes from Orlando, Fla., Kennedy Space Center Visitor Complex opens daily at 9 a.m. with closing times varying by season. Admission is $50 + tax for adults and $40 + tax for children ages 3 – 11. Kennedy Space Center Visitor Complex offers annual passes starting at $75 + tax for adults and $60 + tax for children ages 3 – 11. For more information, call 877-313-2610 or visit www.KennedySpaceCenter.com.
Follow Kennedy Space Center Visitor Complex on Facebook, Twitter, YouTube, Instagram, Google+ and Pinterest
About Delaware North
Delaware North is one of the largest privately-held hospitality and food service companies in the world. Founded in 1915 and owned by the Jacobs family, Delaware North has global operations at high-profile places such as sports and entertainment venues, national and state parks, destination resorts and restaurants, airports, and regional casinos. Our thousands of employee associates are dedicated to creating special experiences one guest at a time in serving more than 500 million guests annually. Delaware North has annual revenue of about $3 billion in the sports, travel hospitality, restaurants and catering, parks, resorts, gaming, and specialty retail industries. Learn more about Delaware North, a global leader in hospitality and food service, at www.DelawareNorth.com.
Connect with Delaware North on Facebook / LinkedIn / Twitter
Media Contacts:
Lauren Eisele Walbert
Sandy Hillman Communications
Office: 410-616-8943
Mobile: 443-683-0294
Rebecca Shireman
Assistant Public Relations Manager
Kennedy Space Center Visitor Complex
321-449-4273
|