Fish Camp, CA – August 2017 / Newsmaker Alert / Wellness seekers can renew, reflect and reconnect in the beauty of the High Sierra this fall while participating in Tenaya Lodge's Yosemite Renewal Wellness Retreats. The tranquil and rejuvenating weekend retreats are a joint venture between Tenaya's Double Silver LEED-certified Ascent Spa and Yosemite-based Balanced Rock, a non-profit dedicated to inspiring health and well-being. Participants are encouraged to focus on self-care and mindful reflection while enjoying an inspiring itinerary that includes hiking, guided meditation in Yosemite National Park, healthy eats, a live food demonstration, spa treatments, September's sunset yoga class led by Balanced Rock and November's paint and wine class hosted by a local artist.

The three-day, two-night Yosemite Renewal Wellness Retreats start at $829 per night, per couple. Guests can choose from two fall 2017 dates; Sept. 29-October 1, and Nov. 3-5. Each retreat session is limited to just 30 guests, creating the perfect environment for an intimate personalized escape. Registration is available online or by calling 888-514-2167.
|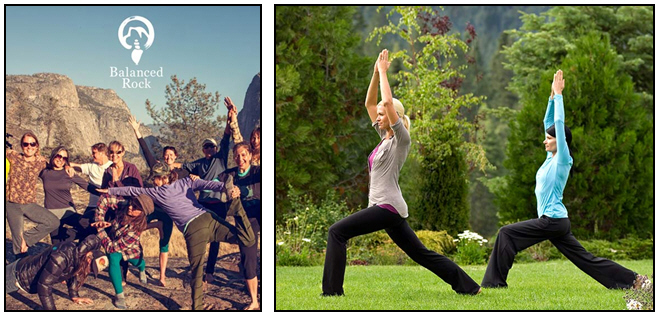 |
"It's important to take a breather from everyday life and engage in experiences that allow you to unwind and look inward," said Stacy Duncan, Spa Manager. "There's no better place to do this than in the beautiful High Sierra with its awe-inspiring natural landscape. What's more, fall is the perfect time to pause, reflect and prepare for the new year around the corner."

The three-day experience begins at the AAA Four Diamond Tenaya Lodge at Yosemite, where participants enjoy newly renovated, mountain-luxe lodge accommodations. The weekend schedule offers a blissful line-up of activities including:

Spa Treatments
Tenaya's 10,000 sq. foot luxurious Ascent Spa, offers a rejuvenating and relaxing experience. Retreat participants can choose from any of Ascent's 60-minute spa treatments including signature renewals, massage therapies, facial and body therapies, and nail services to indulge their mind, body and soul among the fresh aromas of the High Sierra. The state-of-the-art gym, spacious saunas and steam rooms, and Ascent gift shop offer guests more wellness options while they await their spa treatments.

Guided Hike, Meditation and Yoga
Participants are in for a mindful experience with hiking, meditation, and yoga lead by certified instructors at Balanced Rock.
September Retreat: Guests booking the September retreat will experience a day of hiking and guided meditation in Yosemite National Park where the transformational journey will take them among the sounds of roaring waterfalls, picturesque Yosemite icons, and the fresh aromas of the surrounding forests. Sunset yoga at Tenaya Lodge is also on the agenda of relaxation and will wind down the retreat.
November Retreat: Guests booking the November retreat will also experience a day of hiking and guided meditation, but among towering sequoia trees. Yoga will be held at Tenaya Lodge not once, but twice for guests during this retreat.
Fun with Food Demos, Art, and More
Tasty fun is in store for guests after a day of exploring Mother Nature. Tenaya's Executive Chef Fred Clabaugh will lead participants at both retreats through an informative and fun session covering wellness, nutrition and a healthy food demonstration. After a day of hiking and guided meditation in Yosemite National Park and among the sequoias, participants will enjoy s'mores and wine on the patio. For those booking the November retreat, they will also have the opportunity to paint their very own masterpiece inspired by the majestic Yosemite landscape during an entertaining paint and wine session that includes all materials, step-by-step instruction from a professional artist and complimentary wine.

For more information and to register for the Yosemite Renewal Wellness Retreats visit, www.TenayaLodge.com/spa/spa-retreats.

About Tenaya Lodge at Yosemite
Tenaya Lodge at Yosemite is an all-season resort framed by noble evergreen forest and a rich range of Sierra recreation. The lodge, set adjacent to Yosemite National Park's South Gate at an elevation of 5,288 feet, offers 302 rooms, suites and mountain cottage accommodations. Tenaya Lodge offers easy access to Yosemite's iconic attractions and many guests savor the alpine serenity of Ascent Spa at Tenaya Lodge. Resort dining options run the table from casual to candlelit at Sierra, Jackalope's, Timberloft and Embers restaurants. For more information, visit www.TenayaLodge.com.

Ascent Spa
Set against the inspiring backdrop of Yosemite National Park and the Sierra Nevada range, Ascent Spa at Tenaya Lodge allows guests to reach elevated levels of relaxation and rejuvenation. This luxurious Northern California spa creates bliss with 12 treatment rooms for massages, facials and body treatments, all of which are intended to nourish, heal, relax and protect. It is the ideal retreat after a day exploring the park, hiking the surrounding woods or skiing snowy slopes. The 10,000 sq. foot, Double LEED-certified spa also offers dry saunas, steam rooms and an enhanced wellness center. For more information, visit www.TenayaLodge.com/spa.

Balanced Rock
Balanced Rock is a Yosemite-based non-profit that has been inspiring health and wellbeing through programs and classes since 1999. Yosemite National Park is a world-heritage site celebrated as one of the most sacred places on earth. Recently recognized by Travel + Leisure as a top 10 female-focused travel company, Balanced Rock is honored to offer backpacking journeys, weekend camping retreats, day-hikes, workshops, and lodge-based programs that focus on inward reflection, coupled with outward exploration of this incredible place. Compassionate, personable, and expert staff share a rare and unique combination of local Yosemite knowledge and passion for its natural history, with a spirited dedication to contemplative practices including yoga, meditation, and the creative arts. For more information, visit www.BalancedRock.org, email info@balancedrock.org or call 209-379-9453.

About Delaware North's Parks and Resorts Business
Delaware North Parks and Resorts is a global leader in the hospitality industry, operating lodging, food and beverage and retail services, recreational activities, and educational programming at destinations throughout North America and Australia. Delaware North operates in many of the United States' iconic national and state parks, including Grand Canyon National Park, Yellowstone National Park and Niagara Falls State Park, as well as at cultural attractions such as Kennedy Space Center Visitors Complex. Its portfolio also includes The AAA Four-Diamond Tenaya Lodge at Yosemite and several luxury resorts in Australia, including Lizard Island, a highly acclaimed resort on the Great Barrier Reef. To learn more about Delaware North's hospitality management expertise, visit www.DelawareNorth.com/parks-and-resorts-home.aspx.

About Delaware North
Delaware North is one of the largest privately-held hospitality and food service companies in the world. Founded in 1915 and owned by the Jacobs family for more than 100 years, Delaware North has global operations at high-profile places such as sports and entertainment venues, national and state parks, destination resorts and restaurants, airports, and regional casinos. Our thousands of employee associates are dedicated to creating special experiences one guest at a time in serving more than 500 million guests annually. Delaware North has annual revenue of about $3 billion in the sports, travel hospitality, restaurants and catering, parks, resorts, gaming, and specialty retail industries. Learn more about Delaware North at www.DelawareNorth.com.

Media Contact:
Julie Wright
(W)right On Communications, Inc.
for Tenaya Lodge at Yosemite
760-419-4664