Cincinnati, OH & Buffalo, NY – May 2017 / Newsmaker Alert / Delaware North Sportservice has announced Manny Slomovitz as its new executive chef at Great American Ball Park, home to Major League Baseball's Cincinnati Reds.

Chef Manny, who has more than two decades of culinary experience at highly visible restaurants, luxury resorts and properties around the world, will be responsible for overseeing all aspects of the food and beverage operation at the ballpark - including menu development and service for concession stands, clubs, catering and suites.
|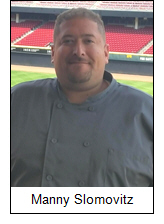 "Our team is proud to welcome a chef with a great culinary vision and experience from literally all over the world," said Don Dierig, Delaware North Sportservice's general manager at Great American Ball Park. "Baseball fans expect a great deal from their food while at the ballpark and Chef Manny will bring a fresh perspective to all facets of our food and beverage program that Reds fans are going to love."
Prior to joining Delaware North, Chef Manny was the corporate director of food and beverage for Lifestyle Holidays Vacation Club Resort and Spa, where he managed culinary operations at four luxury resort properties in the Dominican Republic and five resort properties in Mexico. His duties consisted of overseeing more than 45 restaurant and food outlets, 60 bars, service to 1,500 guest rooms and supervising a staff of 1,200 team members. Additionally, he opened eight new restaurant concepts and he and his team won two first-place awards at the Punta Cana 2016 Food & Wine Festival.
"There's nothing quite like the atmosphere of a Major League Baseball game, especially when it comes to Reds fans at Great American Ball Park," said Chef Manny. "Food is my passion and I'm looking forward to creating an exceptional food experience for Reds fans when they come to the ballpark for a game."
Other international experience for Chef Manny includes serving as a personal executive chef on more than 120 privately charted yacht expeditions throughout the Caribbean and Europe and as executive chef at luxury resorts in the Bahamas. He began his career by gaining experience in a variety of kitchen roles with stops at NOBU in New York City, The Boca Raton Resort and Club in Boca Raton, Fla. and The Harbor View Hotel Wyndham in Edgartown, Md.
Chef Manny earned degrees from The Ohio State University in Columbus, Ohio, and The Culinary Institute of America in Hyde Park, N.Y., where he also served as vice president of the school's Gourmet Society.
About Delaware North
Delaware North is one of the largest privately-held hospitality and food service companies in the world. Founded in 1915 and owned by the Jacobs family for more than 100 years, Delaware North has global operations at high-profile places such as sports and entertainment venues, national and state parks, destination resorts and restaurants, airports, and regional casinos. Our thousands of employee associates are dedicated to creating special experiences one guest at a time in serving more than 500 million guests annually. Delaware North has annual revenue of about $3 billion in the sports, travel hospitality, restaurants and catering, parks, resorts, gaming, and specialty retail industries. Learn more about Delaware North at www.DelawareNorth.com.
Media Contact:
Glen White
Manager-Corporate Communications
Delaware North
716-858-5753
|