Buffalo, NY – November 2012 / Hospitality 1ST / Delaware North Companies and the Jacobs family declared their support for the Say Yes Buffalo Scholarship, Thursday (Nov. 14), with a $1 million gift.
When added to previous commitments from Western New York individuals, families, organizations and businesses, more than $17.5 million has now been raised locally to provide postsecondary tuition scholarships for graduates of Buffalo public and charter schools.
|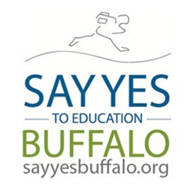 "Our family and company are immensely proud to support Say Yes Buffalo's incredible efforts to help children living in poverty overcome daunting challenges, continue their education and achieve success," Delaware North Companies Principal Jerry Jacobs Jr. said. "We are grateful to be in a position to assist important organizations here in Western New York and in other communities where we operate."
Delaware North is a leading global hospitality and food service company founded nearly 100 years ago in Buffalo by the Jacobs family and still headquartered here today. Delaware North operates at dozens of sports stadiums, entertainment complexes, national parks, resorts, casinos and airports, including locations such as Wembley Stadium in London, the Delaware North-owned TD Garden in Boston, Los Angeles International Airport, the Australian Open in Melbourne and Kennedy Space Center in Florida.
Say Yes Buffalo is an education-based initiative that provides a powerful engine for long-term economic development, which will radically improve the life course of public school students in the City of Buffalo.
Catalyzed by a locally funded scholarship program and bolstered by a successful national model that includes district-wide school improvements and alignment of community and public support services, Say Yes Buffalo will increase educational attainment of the students in the Buffalo Public Schools. To accomplish this, Say Yes Buffalo addresses financial, academic, health, and social/emotional barriers to educational attainment thereby upgrading the skills in our job pool and the prospect of success for thousands of students from low-income families.
"We are deeply grateful for the generosity and support the Jacobs family and Delaware North Companies have shown through this leadership gift," said Alphonso O'Neil-White, Chair of the Say Yes Buffalo Scholarship Committee and President and CEO of BlueCross BlueShield of Western New York. "This incredibly generous gift brings us one giant step closer to our initial fundraising goal of $30 million which will ensure the Say Yes Buffalo Scholarship is available for the next ten years."
The leading predictor of economic health for a region is the level of education of its residents. Buffalo is consistently ranked among the poorest cities in the United States. This ranking directly correlates to the Buffalo public schools' graduation rate of 54% and to the fact that those schools are not preparing students to succeed in today's economy.
Say Yes Buffalo was created to address this issue and is expected to do so by:
Increasing the city's public school graduation rate.
Increasing the number of students who complete a postsecondary degree (certificate, associate or bachelor's).
Strengthen the workforce to meet the needs of local employers.
For more information about Say Yes Buffalo visit www.SayYesBuffalo.org.
About Delaware North Companies
Delaware North Companies is one of the largest and most admired privately held hospitality companies in the world. Founded and owned by the Jacobs family for nearly 100 years, it is a global leader in hospitality and food service. Its family of companies includes Delaware North Companies Parks & Resorts, Delaware North Companies Gaming & Entertainment, Delaware North Companies Travel Hospitality Services, Delaware North Companies Sportservice, Delaware North Companies International and Delaware North Companies Boston, owner of TD Garden. Delaware North Companies has revenue exceeding $2.6 billion annually and 55,000 associates serving half a billion customers in the United States, Canada, the United Kingdom, Australia and New Zealand. For more information, visit www.DelawareNorth.com.
About Say Yes Buffalo
Say Yes Buffalo (www.SayYesBuffalo.org) is dedicated to increasing high school and postsecondary graduation rates among students attending Buffalo public and charter schools. Say Yes Buffalo provides comprehensive supports, including the promise of a locally funded full college or vocational education, aligned with what research indicates is needed to enable every child in the program to achieve his or her potential. Say Yes Buffalo is made possible by the generosity of Western New York individuals, families, businesses and foundations and Say Yes to Education, Inc., a national, non-profit education foundation.
Media Contact:
Laura Gray
Delaware North Companies
Corporate Communications
716-858-5671
|