Honey Creek State Park, IA – June 2017 / Newsmaker Alert / Delaware North, which this month began its second year operating Honey Creek Resort for the Iowa Department of Natural Resources, announces it will add an outdoor pool and second wedding pavilion at the resort adjacent to Honey Creek State Park in southern Iowa.

The pool and second wedding pavilion are expected to be operational for summer 2018. The pool will connect to the existing indoor waterpark at the main lodge, and the new wedding pavilion will accommodate weddings of up to 250 guests. The new pavilion will also look out on Rathbun Lake but will be located closer to the lodge than the popular existing pavilion.

"Weddings, family reunions and even corporate events continue to be a popular draw for Honey Creek Resort, so we want to build on that with a second pavilion," said Walt Kochansky, Honey Creek Resort general manager. "The pool will be another amenity that families can enjoy as part of their stay."

In addition, Delaware North has added new recreational amenities for this summer season, adding to those included in a guest's stay such as the Buccaneer Bay Indoor Water Park, bicycles, kayaks, stand-up paddle boards and naturalist programs. New are:
Motorized boats (pontoon boats, ski boats and jet skis) that can now be rented at Honey Creek's own 42-slip landing marina. Guests previously had to go through an outside service to rent boats.
A giant water trampoline on Rathbun Lake.
Enhancements to the waterpark, which features a two-story water slide, lazy river, hot tub, and arcade.
Honey Creek Resort (view photo gallery) also features golf at The Preserve on Rathbun Lake – an Audubon-certified, 18-hole championship course designed for all ages and skill levels. The course has been ranked No. 5 on Golf Magazine's list of the best public courses in Iowa.

New menus for all-day dining at Rathbun Lakeshore Grille have been developed by Executive Chef Alexander Beltran and the Delaware North global culinary team. The menus feature a mix of Iowa classic dishes and special farm-to-plate fare using the fresh produce growing in the chef's garden outside the restaurant.

Behind the scenes, Delaware North has added onsite employee housing, is upgrading the audio-visual equipment in the meeting and banquet facilities and has installed a new point-of-sale system and digital signage around the resort to improve guest service and promotion of available activities. In addition, Delaware North has integrated its highly regarded customer service program, GuestPath®, and its environmental management program, GreenPath®, into the operation.

Delaware North is investing $2.5 million to enhance the resort over the first five years of the 15-year contract.

"We've had a good first year and continue to work with IDNR to make improvements to the property and promote what really has been a hidden gem as an all-inclusive family resort in the Midwest," Kochansky said.

Delaware North has stepped up efforts to market the resort, including email and social media campaigns and a push with billboards and radio ads in Des Moines, the resort's closest large market. The resort's website has also been redesigned, and Delaware North is cross-marketing the resort to callers to its global reservations center seeking accommodations at other hotels the company operates.

This spring the resort also became the endpoint – thanks to a new 7-mile extension through Moravia to Honey Creek State Park – on the 115-mile Historic Hills Scenic Byway, which features signage along the route.
|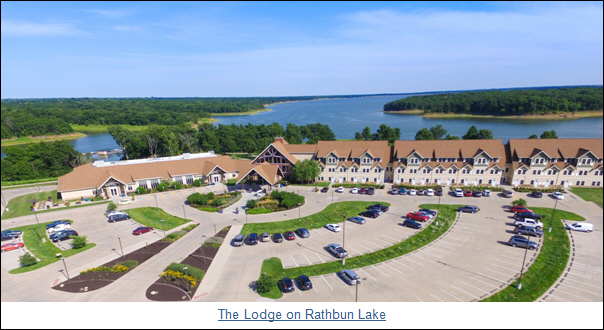 |
About Honey Creek Resort
Honey Creek Resort is a AAA Three Diamond-Rated resort, owned by the State of Iowa and managed by global hospitality and food service provider Delaware North for the Iowa Department of Natural Resources. Built in 2008 and LEED Certified by the U.S. Green Buildings Council, Honey Creek Resort is located on the shores of Iowa's second largest lake, Rathbun Lake, 85 miles southeast of Des Moines. The resort features 105 guest rooms; 28 cottages with one, two or four bedrooms; and an RV park with 14 campsites. Among the resort's myriad amenities are The Preserve at Rathbun Lake, an 18-hole championship links style golf course; a 42-slip marina; a two-story pirate-themed indoor waterpark; and Rathbun Lakeshore Grille, a full-service restaurant and bar with outdoor patios. Additionally, the resort boasts 7,000 square feet of meeting and banquet facilities and event and wedding service staff who can accommodate both large and intimate groups. For room reservations, call 641-724-9100 or toll-free at 866-797-5308 or visit www.HoneyCreekResort.com.

About Delaware North's Parks and Resorts Business
Delaware North's parks and resorts business operates lodging, food and beverage and retail services, recreational activities, and educational programming at destinations throughout North America and Australia. Delaware North operates in many of the United States' iconic national and state parks, including Grand Canyon National Park, Yellowstone National Park and Niagara Falls State Park, as well as at cultural attractions such as Kennedy Space Center Visitors Complex. Its portfolio of owned hotels includes lodging properties in park gateway communities and luxury resorts in the United States and Australia. One of the largest privately-held hospitality and food service companies in the world, Delaware North has been owned and led by the Jacobs family for more than 100 years. The company has global operations at high-profile places such as sports and entertainment venues, national and state parks, destination resorts and restaurants, regional casinos and airports. Learn more about Delaware North at www.DelawareNorth.com.

Media Contact:
Glen White
Manager-Corporate Communications
Delaware North
716-858-5753