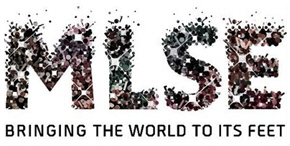 |

Home of the Maple Leafs and Raptors to

Become Scotiabank Arena Next Summer

|

Scotiabank and MLSE announce a transformative

20-year strategic partnership

|

Toronto, ON – September 2017 / Newsmaker Alert / Scotiabank and Maple Leafs Sports and Entertainment (MLSE) announce an expanded sponsorship and philanthropic partnership which will see the home of the Toronto Maple Leafs and Toronto Raptors transformed into the Scotiabank Arena in July, 2018.

This 20-year strategic partnership also includes new philanthropic opportunities with the MLSE Foundation, and a digital collaboration between MLSE and the Scotiabank Digital Factory.

"We have always sought new and innovative partnerships with the goal of building strong and enduring communities," said Brian Porter, Scotiabank's President and CEO. "Today's announcement is an extension of Scotiabank's unwavering love of sports and our commitment to help young people reach their full potential. We believe that MLSE is an ideal partner for Scotiabank to reach our objectives."

Scotiabank supports more than 8,000 Canadian kids' community hockey teams. This partnership will enrich that support in the Greater Toronto Area, and will help to expand community hockey programs for youth across the country. "Scotiabank is already a proud supporter of the MLSE Foundation and its LaunchPad program. Today's announcement builds on our commitment to Canada's young people," said Brian Porter.

"For the past 18 years, Air Canada Centre has not only been home to the Maple Leafs and Raptors, it has also hosted hundreds of the most popular concerts and events in the industry, helping contribute to Toronto's well-deserved reputation as one of the top sports and entertainment destinations in the world," said Larry Tanenbaum, Chairman of the Board for MLSE. "We are grateful to Scotiabank for their continued support and this expanded partnership as we look ahead to what we expect to be 20 of the most exciting years in Toronto sports and entertainment history."

"MLSE is proud to operate one of the top venues in sports and entertainment, in a world-renowned city backed by some of the best fans and partners in the industry," said Michael Friisdahl, President and CEO of MLSE. "This expanded partnership with Scotiabank will not only support our pursuit of championships and delivering a world-class experience for our fans, but it will have a lasting impact on our community."

As part of the transfer of the arena naming rights in 2018, MLSE and Air Canada have also reached an agreement on a long-term partnership renewal that will see the company continue as the official airline partner of both the Maple Leafs and Raptors.

"As Canada's flag carrier and North America's Best Airline as ranked by the Skytrax World Airline Awards, we are proud to continue our partnership with MLSE as the Official Airline of the Toronto Maple Leafs and Toronto Raptors," said Benjamin Smith, President, Passenger Airlines at Air Canada. "We congratulate MLSE and Scotiabank as they build on the legacy we helped establish in 1999 and look forward to celebrating with fans and customers during our final season as title sponsor of the Air Canada Centre. Air Canada supports professional and amateur sports throughout Canada and our global hub in Toronto connects that city to the world, driving both the economy and communities."

"MLSE is extremely grateful to Air Canada for their support as a founding partner of the Raptors and Air Canada Centre and we look forward to our continued partnership," said Tanenbaum.

"Air Canada has been an integral part of the success of this arena and our teams over the past 18 years, and with our renewal agreement, we look forward to continued success with our partnership in the years to come," said Friisdahl.

Since opening in February, 1999, Air Canada Centre has hosted more than 50 million fans over 3,500 premiere events including the 2016 NBA All Star Weekend, the 2016 World Cup of Hockey and many of the world's most popular performing artists including U2, Justin Bieber and Drake. As one of the leading sports and entertainment venues in the world, Air Canada Centre was named last year as Canadian Venue of the Year by Canadian Music Week as well as the third busiest concert venue in North America and seventh-ranked facility in the world for concert attendance by Pollstar. The venue capacity is 19,800 for basketball and full-house concerts and 18,800 for hockey.

"We are thrilled that Scotiabank's name will appear on the side of this iconic building for the next two decades, and are looking forward to all of the historic moments to come," said Scotiabank's Chief Marketing Officer, John Doig. "With that said, we are especially pleased to partner with an organization that shares our values. This partnership is exciting for sports fans across Canada, and also for the young people and communities our Bank seeks to support."

Backgrounder
This agreement encompasses both sponsorship and philanthropic opportunities for Scotiabank and MLSE.
Exclusive naming rights of 40 Bay Street (Air Canada Centre)
Scotiabank continues to be the Official Banking Partner of the Toronto Maple Leafs
MLSE Incubator at the Scotiabank Digital Factory – A digital centre of excellence to help drive fan/customer engagement programs
Scotiabank and the MLSE Foundation will expand their partnership focused on helping young people in the GTA, changing lives through the power of sport
Scotiabank and MLSE will collaborate with SCENE to develop fan-centered promotions for sports and entertainment enthusiasts
Scotiabank and MLSE would like to thank all of those involved in making this agreement possible, and a special thank you to Scotiabank's Sponsorship Agency, MKTG Canada, who played an invaluable role throughout the negotiation process.

About Scotiabank
Scotiabank is Canada's international bank and a leading financial services provider in North America, Latin America, the Caribbean and Central America, and Asia-Pacific. We are dedicated to helping our 24 million customers become better off through a broad range of advice, products and services, including personal and commercial banking, wealth management and private banking, corporate and investment banking, and capital markets. With a team of more than 88,000 employees and assets of over $906 billion (as at July 31, 2017), Scotiabank trades on the Toronto (TSX: BNS) and New York Exchanges (NYSE: BNS). For more information, please visit www.scotiabank.com and follow us on Twitter @ScotiabankViews.

Investing in Young People
Scotiabank's focus on young people reinforces a commitment to communities that began 185 years ago. Such investments are an important part of how we create a better life for the people that we serve around the world. In 2016 alone, Scotiabank contributed CAD$70 million in donations, sponsorships and other forms of assistance to communities around the world.

Scotiabank Hockey
Scotiabank is the Official Bank of the NHL®, NHL Alumni™, CWHL, Vancouver Canucks®, Winnipeg Jets®, Toronto Maple Leafs®, Ottawa Senators®, Edmonton Oilers® and the Calgary Flames® whose home arena is the Scotiabank Saddledome. The Bank also supports the Montreal Canadiens®. Scotiabank's Community Hockey Sponsorship Program supports over 8,000 minor hockey teams in communities across Canada. To find out more about Scotiabank's hockey programs, please visit www.scotiabank.com/the5thseason.

About MLSE
Maple Leaf Sports & Entertainment Ltd (MLSE) is Canada's preeminent leader in delivering top quality sport and entertainment experiences to our fans. MLSE is one of North America's leading providers of exceptional experiences. It is the parent company of the National Hockey League's Toronto Maple Leafs, the National Basketball Association's Toronto Raptors and Major League Soccer's Toronto FC. MLSE operates many of the venues its teams play and train in, including Air Canada Centre, BMO Field, MasterCard Centre for Hockey Excellence and Kia Training Ground. MLSE also provides fans in Toronto incredible live music and entertainment events.

MLSE Foundation
MLSE Foundation believes all kids should have access to sport and the opportunity to develop lasting dreams on the playing field. With the support of MLSE's teams, the Foundation funds the refurbishment of local athletic facilities and programs that support kids through sports and recreation. Set to open in 2017, MLSE Foundation's latest project, MLSE LaunchPad, will be the first collaborative space in North America to leverage sport, education and research to promote social change. Since launching in December 2009, MLSE Foundation has invested more than $24 million into our community. For more information visit mlsefoundation.org, or follow @MLSEFoundation.

About Air Canada
Air Canada is Canada's largest domestic and international airline serving more than 200 airports on six continents. Canada's flag carrier is among the 20 largest airlines in the world and in 2016 served close to 45 million customers. Air Canada provides scheduled passenger service directly to 64 airports in Canada, 57 in the United States and 95 in Europe, the Middle East, Africa, Asia, Australia, the Caribbean, Mexico, Central America and South America.

Air Canada is a founding member of Star Alliance, the world's most comprehensive air transportation network serving 1,300 airports in 191 countries. Air Canada is the Official Airline of the Toronto Maple Leafs, Montreal Canadiens, Ottawa Senators, Winnipeg Jets, Calgary Flames, Edmonton Oilers and Vancouver Canucks. Air Canada Jetz is the official carrier for all seven Canadian teams of the National Hockey League (NHL). Air Canada is the only international network carrier in North America to receive a Four-Star ranking according to independent U.K. research firm Skytrax, which also named Air Canada the 2017 Best Airline in North America. For more information, please visit www.aircanada.com.

Media Contact:
Dave Haggith, Sr. Director, Communications
MLSE
416-450-1681 (c)