Back To News/PR Index
|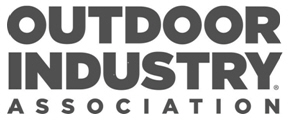 |
Outdoor Industry Association Releases the
Outdoor Recreation Economy Report

Thriving outdoor recreation economy generates $887 billion in
consumer spending annually and supports 7.6 million American jobs
|

Washington, DC – April 2017 / Newsmaker Alert / Outdoor Industry Association (OIA) has released The Outdoor Recreation Economy report, the largest and most comprehensive report of its kind that captures the power of a vast economic engine that creates billions in consumer spending and millions of good-paying American jobs.

A sector woven deep into the fabric of local communities across the country, the outdoor recreation economy generates $887 billion in consumer spending annually, sustains 7.6 million American jobs and generates $65.3 billion in federal tax revenue and $59.2 billion in state and local tax revenue each year. With more Americans employed as part of the outdoor recreation economy than in food and beverage service, or in construction and computer technology, this report shows that when our nation's leaders invest in outdoor recreation, the result is healthier economies and healthier communities.

"From the smallest rural towns to the most densely populated cities, outdoor recreation makes America stronger," said Amy Roberts, OIA executive director. "This report makes clear that the outdoor recreation economy is not only thriving, but a powerful economic force that embodies the American spirit. Public lands and waters are the foundation of this powerful economic force. By investing in and protecting America's public lands and waters, we invest in our future and the continued well-being of America. Together, we can thrive outside."
|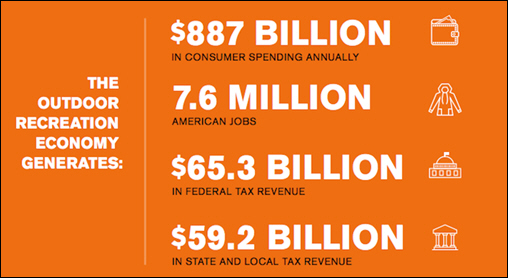 |
The outdoor recreation economy attracts active and healthy workers whose lifestyles support thriving communities and contribute to a higher quality of life while sustaining businesses and families. Additional findings from the report include the following:
Every year, American consumers spend more on outdoor recreation ($887 billion) than they do on education ($278 billion), gasoline and fuels ($304 billion), household utilities ($313 billion), motor vehicles and parts ($465 billion) or pharmaceuticals ($466 billion).
Spending on outdoor recreation far outpaces other popular activities:

Water sports gear ($14 billion) versus movie tickets ($11 billion)
Trail sports gear ($20 billion) versus home entertainment ($18 billion)

Outdoor recreation provides significant health benefits and lower public health care costs through physical activity and by reducing stress and obesity rates.
National parks, national wildlife refuges, national monuments and other public lands and waters account for $45 billion in economic output and about 396,000 jobs nationwide.
These findings are evidenced by the data from The Outdoor Recreation Economy report and reflect our nation's shifting demographics and growing urbanization, including data on seven new activities – surfing, skateboarding, horseback riding, running 3+ miles, mountaineering, scuba diving and sailing. This national report will be followed later in the year with an analysis of all 50 states and all 435 U.S. congressional districts.

"REI has always been committed to helping people connect with the outdoors and spend time outside, and we were proud to partner with Outdoor Industry Association to produce the most inclusive economic report on outdoor recreation to date," said Jerry Stritzke, CEO of REI. "Given the anticipated news from the administration about monument designations this week, this is a timely discussion. The outdoor recreation economy has always been a vital element in the fabric of our country. We're particularly proud to contribute 7.6 million good jobs. We're happy to stand with the millions of Americans who look to the outdoors for their livelihoods and enjoyment, and we ask that our nation's policymakers and elected officials do the same."

In an era when our nation's population is extremely polarized ideologically, the outdoors has proven to be a unifying force that brings families and communities together. Last year, the U.S. House of Representatives and Senate passed the Outdoor Recreation Jobs and Economic Impact (REC) Act with unanimous, bipartisan support, marking an important milestone for the outdoor industry. Signed into law by former President Barack Obama, the law ensures the outdoor recreation economy is counted as part of U.S. gross domestic product.

Outdoor Industry Association issued the first Outdoor Recreation Economy report more than a decade ago and has made significant improvements to the report since then. This third edition takes a broader view of the growing industry and its shifting demographics. The sample that was drawn for this study was designed to represent the U.S. population on the basis of gender, age, education and race.

Respondents were solicited through Survey Sampling International (SSI), a longtime leader in survey research. The report was made possible through the generous support of REI, Patagonia, The North Face, W.L. Gore, People for Bikes, The Teddy Roosevelt Conservation Partnership (TRCP) and The Outdoor Foundation.

About Outdoor Industry Association
Based in Boulder, Colo., with offices in Washington, D.C., Outdoor Industry Association (OIA) is the leading trade association for the outdoor industry and the title sponsor of Outdoor Retailer. OIA unites and serves over 1,200 manufacturers, supplier, sales representative and retailer members through its focus on trade and recreation policy, sustainable business innovation and outdoor participation. For more information, visit www.OutdoorIndustry.org.

Contact:
Amy Roberts
Executive Director
Outdoor Industry Association
303-327-3501