Back To News/PR Index
|



|

Rainmaker Executives Featured at Hotel Revenue Conference 2018

|
Presentation to focus on optimizing group business for

higher conversion rates and increased revenue

|

Alpharetta, GA – February 2018 / Newsmaker Alert / The Rainmaker Group (Rainmaker), a leading provider of cloud-based hospitality revenue and profit optimization software, announced today that Amy Forss, senior sales director, and Mike Pavicich, director of hospitality sales, will be featured speakers at the Hotel Revenue Conference 2018. The conference will be held Feb. 21-22 at the Fairmont Olympic Hotel in Seattle. Rainmaker is a gold-level sponsor of the event.

Forss and Pavicich will speak on optimizing group business for higher conversion rates and increased revenue. Their presentation, entitled FOMO: Fear of Missing Out, will include topics such as: leveraging data and technology; streamlining revenue management processes; proactive selling; and empowering the team.
|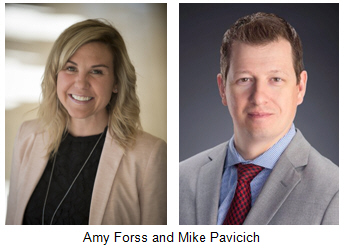 |
Forss, who has more than 15 years' experience in the hospitality industry, joined Rainmaker in January 2015. Her expertise is in group sales and revenue management. Pavicich, who joined Rainmaker in August 2017, has held leadership roles in hotels, casino companies and travel technology businesses. Both executives are focused on helping hotels and resorts increase profitability through the use of technology and are frequent speakers on a variety of revenue management topics.

Rainmaker offers best-of-breed revenue and profit optimization solutions to hotels, resorts and casinos. Its product suite includes:
guestrev, an intuitive and easy-to-use revenue management solution that analyzes total guest value across a hotel or casino property to forecast and price rooms;
grouprev an innovative group pricing solution that streamlines the process of responding to group RFPs by analyzing historical data, future demand, and price sensitivity to recommend the best pricing for group business;
revcaster, a powerful rate shopping tool that gives hoteliers access to real-time actionable market data, so that rates can be set against the competitive landscape; and
revintel, an intuitive business intelligence solution that improves day-to-day revenue management by mining various data sets and providing deep insights at a granular level.
"We are thrilled to participate in this year's Hotel Revenue Conference, both as thought leaders and as a gold-level sponsor," said Tammy Farley, president of The Rainmaker Group. "We continue to experience significant growth within the hotel market and have a strong commitment to the success of our customers in this sector. We understand the importance of technology to a hotel's success, and we look forward to sharing information and insights that can help attendees win more group business at their own properties."

The Hotel Revenue Conference is a premier event that gives hoteliers an opportunity to meet with industry leaders, subject matter experts and technology vendors. Focused on revenue generation, the event incorporates leading content for revenue management, digital marketing and management audiences.

To sign up for a one-on-one meeting with Rainmaker during the Hotel Revenue Conference, contact Brenna Needham at 470-440-7917 or bneedham@letitrain.com.

About Rainmaker
Rainmaker is the hotel revenue and profit optimization cloud. The company partners with hotels, resorts and casinos to help them outperform their revenue and profit objectives. Rainmaker's cloud-based solutions for transient and group pricing optimization, forecasting, and revenue-centric business intelligence are designed to help hoteliers streamline operations, enhance revenue optimization processes, improve lead performance, and drive guest bookings. Recognized as one of the top privately held companies in the United States, Rainmaker has been named to Inc. 5000's 'Fastest Growing Privately Held Companies' for the last seven years and to the Atlanta Business Chronicle's list of '100 Fastest Growing Companies in Atlanta'. Rainmaker serves hospitality customers throughout the world from its corporate headquarters in Alpharetta, Ga. and from offices in Las Vegas, Portland, Ore., and Singapore. To learn more about Rainmaker and its suite of hotel revenue and profit optimization solutions, visit www.LetItRain.com.

Contact:
Dana Glaze
The Rainmaker Group
470-440-2041
|