Back To News/PR Index
|



|

Rainmaker Executive Dan Skodol a Featured Speaker at

Best Western Hotels & Resorts 2017 Annual Conference

|

Presentation to Focus on the Relationship Between

Benchmarking and Performance

|

Alpharetta, GA – November 2017 / Newsmaker Alert / The Rainmaker Group (Rainmaker), a leading provider of cloud-based hospitality revenue and profit optimization software, announces that Dan Skodol, the company's vice president of revenue analytics, will be a featured speaker at the Best Western Hotels & Resorts 2017 Annual Conference, which will be held Nov. 7-10 at Gaylord Opryland Resort & Convention Center in Nashville, Tenn.
|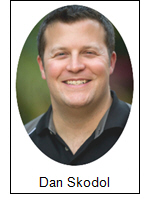 Skodol's presentation, titled 'Comp Set: Getting it Right – The Relationship Between Benchmarking and Performance', will take place Tuesday, Nov. 7, from 1:30 p.m.–2:30 p.m. and from 3 p.m.–4 p.m. The presentation will cover comp set best practices; correlation between the nature of price competition within markets and

RevPAR

performance; and using technology to outperform the competition.

Skodol, who has an extensive background in the hospitality industry, joined Rainmaker in January 2014. As the company's vice president of revenue analytics, he is responsible for product strategy, research oversight, analysis, and modeling for Rainmaker's core hospitality software products. His career experience includes senior positions in the hotel, casino and airline sectors, and he is a frequent speaker on a wide variety of revenue management topics, ranging from forecasting to capital planning.

"Benchmarking not only helps hotels find opportunities in the market but also reveals whether a property's strategies have had an impact on performance," said Skodol. "Hotels that want to beat the competition must stay on top of key metrics and make pricing decisions that improve revenue outcomes. Technology is integral to this process, giving hoteliers access to real-time data so that rates can be set accordingly. This is an important and relevant discussion, particularly for properties in highly competitive markets, and I look forward to sharing information and insights with attendees."

Rainmaker's groundbreaking revenue and profit optimization product suite includes:
guestrev®, an intuitive and easy-to-use revenue management solution that analyzes total guest value across a hotel or casino property to forecast and price rooms;
grouprev®, an innovative group pricing solution that streamlines the process of responding to group RFPs by analyzing historical data, future demand, and price sensitivity to recommend the best pricing for group business;
revcaster®, a powerful rate shopping tool that gives hoteliers access to real-time actionable market data, so that rates can be set against the competitive landscape; and
revintel®, an intuitive business intelligence solution that improves day-to-day revenue management by mining various data sets and providing deep insights at a granular level.
To sign up for a one-on-one meeting with Rainmaker during the Best Western Hotels & Resorts conference, visit www.letitrain.com/best-western-north-american-convention.

About Rainmaker
Rainmaker is the hotel revenue and profit optimization cloud. The company partners with hotels, resorts and casinos to help them outperform their revenue and profit objectives. Rainmaker's cloud-based solutions for transient and group pricing optimization, forecasting and revenue-centric business intelligence are designed to help hoteliers streamline operations, enhance revenue optimization processes, improve lead performance and drive guest bookings. Recognized as one of the top privately held companies in the United States, Rainmaker has been named to Inc. 5000's 'Fastest Growing Privately Held Companies' for the last seven years and to the Atlanta Business Chronicle's list of '100 Fastest Growing Companies in Atlanta'. Rainmaker serves hospitality customers throughout the world from its corporate headquarters in Alpharetta, Ga. and from offices in Las Vegas, Portland, Ore. and Singapore. To learn more about Rainmaker and its suite of hotel revenue and profit optimization solutions, visit www.LetItRain.com.

Contact:
Melissa Andrews
The Rainmaker Group
407-342-7829