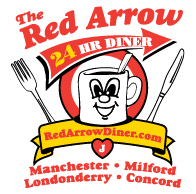 |

Red Arrow Diner Names Jamie Lemay District Manager

|
New District Manager Position Needed to
Support Continued Corporate Growth

|

Londonderry, NH – February 2018 / Newsmaker Alert / Red Arrow Diner is excited to announce the promotion of employee Jamie Lemay to district manager, effective February 1, 2018.

In this role, Ms. Lemay will be responsible for maintaining consistency throughout each diner locations and will work closely with general managers to assure company policies and procedures are being met. She will also have a part in monitoring the diner's budgets and expenditures.
|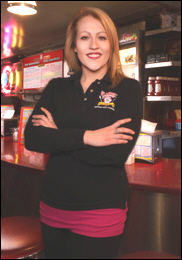 Ms. Lemay joined Red Arrow Diner in 2012 as a third-shift server at the company's historic Manchester location. Due to her positive attitude, admirable work ethic and consistent enthusiasm she brought to each of her shifts, she was promoted to general manager of the location in 2015. As general manager, Jamie was responsible for managing employee scheduling, maintaining food and supply orders, regularly interacting with customers to assure the food and service was to their liking, and working closely with servers, cooks and other staff to make sure company procedures were being followed. Her hard work and success as a general manager led to her promotion to district manager.
"I am thrilled Jamie Lemay accepted the the newly-created district manager position," said Red Arrow Diner owner Carol Lawrence-Erickson. "The dedication and enthusiasm she has for her job is very apparent and she is already a respected leader. I am looking forward to her creative ideas and believe she will make a positive addition to our leadership team."
Jamie began her career in the hospitality industry as a host in a chain restaurant for five years before she began bartending at a Nashua banquet facility. She was recruited by a former Red Arrow Diner general manager to work at the diner as a third-shift server and then began her tenure at the Manchester landmark. Jamie currently lives in Nashua with her fiancé and their five children.
About Red Arrow Diner
A privately-held company based in Manchester, New Hampshire, the Red Arrow Diner operates restaurants in Concord, Manchester, Milford and Londonderry, New Hampshire, United States. Each Red Arrow Diner location is a 24-hour diner and serves over 500,000 breakfasts annually. The Red Arrow Diner has been featured on various nationally-broadcasted television and radio shows, including the Food Network's Diners, Drive-Ins and Dives and SiriusXM political channels Patriot (125) and Progress (127). Additionally, Red Arrow is an active community supporter with countless volunteer hours, pro bono promotions, and financial donations. For information about the Red Arrow Diner, visit www.redarrowdiner.com.
Media Contact:
Ami D'Amelio
Just Flow Events & Marketing
for Red Arrow Diner
603-703-5588