Back To News/PR Index
|
Construction Begins on $600 Million Snowmass Base Village
|

Snowmass Village, CO – July 2017 / Newsmaker Alert / North America's largest ski area village development is officially underway and was celebrated Tuesday night (July 18) as 200 people attented the construction start on the next phase of Snowmass Base Village, a $600 million collaboration between three major players in the mountain resort business — East West Partners (EWP), Aspen Skiing Company (ASC) and KSL Capital Partners.

This premier mountain resort development, located at the base of Snowmass Ski Area, is the largest ski area village development currently underway in North America.

"I think this is a game-changer for Base Village and for Snowmass. It's pretty rare to be able to bring a hotel like the Limelight, an ice-skating rink, and all these amenities to a resort that's 50 years old," East West managing partner Andy Gunion said. "Opportunities like this are few and far between."
|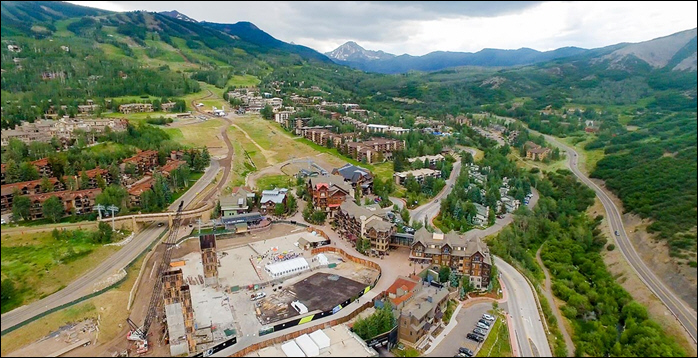 |
The next phase of Snowmass Base Village development includes the following projects:
The 100-room, 11-residence Limelight Hotel that will feature an indoor/outdoor lounge and restaurant with a lively après-ski scene, five-story climbing wall open to the public, fitness center, and hot tubs, all with spectacular mountain and plaza views. The Limelight will also host Snowmass Mountain Club, an exclusive private club with member parking, lockers and lounge space right at the base of the mountain. The mountain-contemporary building was designed by Oz Architecture, with a clean, crisp interior design approach from Stonehill & Taylor. Limelight, Snowmass will be ASC's third Limelight hotel with existing locations in Aspen, CO and Ketchum, ID.
A central public events plaza that will serve as the community's outdoor gathering space with an ice-skating rink in the winter that doubles as an events lawn in summer, as well as fire pits, children's pop-up fountains and other community amenities. The plaza was designed by StudioINSITE.
Lumin (Building 4), a small, exclusive residential condominium building located adjacent to the Plaza and Elk Camp Gondola with three residences and a Four Mountain Sports ski/snowboard and outfitters shop. The building was designed by a separate team at Oz Architecture with interior design by The Ranch House.
The Discovery Center (Building 6), a public building that is anticipated to include a number of interactive activities for families and children. Programming for the Discovery Center is being contemplated around the discovery of Ice Age fossils found at nearby Ziegler reservoir that captured the community's and world's attention. The building design also calls for a café and bar with indoor and outdoor seating that spills out onto the plaza. The Discovery Center is being designed by Harry Teague Architects.
This fall construction will commence on One Snowmass (Buildings 7 and 8), including 41 condominium residences. These buildings will also house ground floor commercial space, the Base Village Welcome Center and a 5,500 sq. ft. medical clinic. Both buildings are being designed by 4240 Architecture with interior design by Styleworks.
Notably, the buildings are being designed by a number of different architecture/interior design teams who have each brought their own unique interpretation of mountain contemporary design to the project. This will result in an eclectic village feel with a common mountain modern architectural vernacular that features contemporary forms anchored in traditional alpine materials. This whole approach and design philosophy is a significant departure from the more uniform traditional mountain resort village designs that have been prevalent in the past.

"It's an entirely new day for Snowmass," said Mike Kaplan, CEO of Aspen Skiing Company. "We've spent the last decade upgrading the on-mountain experience with tens of millions of dollars of improvements and now we are excited to bring the base of the mountain up to the next level. Snowmass will realize its full potential as one of the best year-round mountain resorts in North America. We are also thrilled to have the third Limelight Hotel be part of the mix, and incorporate everything we have learned from the first two Limelight properties."

Over the last 12 years, Aspen Skiing Co. has made nearly 100 million dollars in on-mountain investments at Snowmass Ski Area, including the Elk Camp gondola and Meadows beginners' area, new and renovated on-mountain restaurants, new and realigned lifts, a new children's center and other base area amenities. ASC recently announced an immense list of summer 2018 plans and activities at the new Lost Forest, including an alpine coaster, canopy tour, challenge course, climbing wall and expanded hiking and biking trails. These enhancements are designed to provide new outdoor experiences to increase summer visitation to the area.

EWP, ASC and KSL are all Colorado-based companies with deep ski industry roots and extensive experience in the development of mountain resorts. They are building upon previous work done by prior owners, Intrawest and later Related Cos., who completed the first phase of the Snowmass Base Village project. This initial work included residential condominiums, multiple shops, restaurants and the Viceroy Hotel – all of which were part of EWP/ASC/KSL purchase of Snowmass Base Village in December 2016.

About East West Partners
East West is a Colorado-based national real estate development and placemaking company, which was founded in 1986 with the purchase of land in the then emerging resort of Beaver Creek. Since that time East West (www.ewpartners.com) has developed more than 60 projects comprising more than $3.0 billion of residential and commercial real estate in both resort and urban locations across the country and has been awarded the Urban Land Institutes Award for Excellence three times, most recently for its work on the Union Station neighborhood in Denver. EWP has extensive mountain resort development experience, including Beaver Creek/Vail, Northstar Resort in Lake Tahoe, Deer Valley, UT and Breckenridge, CO.

About Aspen Skiing Company
Aspen Skiing Company (www.aspensnowmass.com) owns and operates the four mountains of Aspen Snowmass – Snowmass, Aspen Mountain, Aspen Highlands and Buttermilk – as well hospitality properties The Little Nell, Residences at The Little Nell, Limelight Aspen and Limelight Ketchum in Ketchum, Idaho, In addition, Aspen Skiing Company owns and operates numerous retail and rental locations through the resort and the Roaring Fork Valley.

About KSL Capital Partners, LLC
KSL is a private equity firm specializing in travel, leisure and resort enterprises in five primary sectors: hospitality, recreation, clubs, real estate and travel services. KSL has offices in Denver, CO; Stamford, CT; and London. Since 2005, KSL has raised approximately $7.5 billion in equity capital commitments. KSL's current portfolio includes some of the premier properties in travel and leisure. KSL has a deep history of ski resort management and ownership throughout the US and Canada. For more information, please visit www.kslcapital.com.

About Snowmass Village and Snowmass Ski Area
A renowned winter playground and vibrant mountain community just 8 miles from downtown Aspen, Snowmass Ski Area consistently ranks as one of the best ski and snowboard hills in the world. In addition to unmatched natural beauty and over 300 sunny days a year, Snowmass Ski Area offers guests 3,332 acres of multi-level terrain and boasts the second largest vertical drop in the United States. 95% ski-in/ski-out lodging, 37 restaurants, numerous shops and boutiques, a bounty of off-piste activities, and a friendly, small town feel beckon visitors year-round. For more information and a complete calendar of events and activities, please visit: www.gosnowmass.com.

Media Note:
Snowmass Base Village site map and the latest building renderings available upon request.

Media Contact:
Sheryl Barto
O Communications
970-704-1112