Los Angeles, CA – August 2017 / Newsmaker Alert / Each issue of SportsTravel contains information from the Press Box. SportsTravel is the sports world's event magazine.

Sports Organizations
|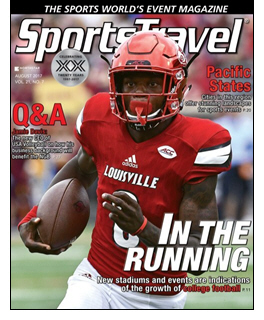 College Football Playoff Chief Operating Officer Michael Kelly has received a three-year contract extension through June 2020. He has been the organization's COO since 2012. In addition, Laila Brock has been promoted to senior director for operations and logistics, and Dave Marmion has been named chief financial officer. Brock was previously director of operations and logistics for the organization. Marmion most recently served as executive associate athletic director and chief financial officer at the University of Texas at Austin.
LA 2024 has appointed Jared Schott as director of international relations and assistant general counsel, and Lenny Abbey as director of national Olympic and Paralympic committee relations and operations. Schott previously worked for the World Bank's Governance Global Practice. Abbey is an Olympic veteran who has worked on five previous Games.
San Diego County will be the home of the North American Soccer League's newest expansion team, which will debut in spring 2018. The club plans to build a soccer complex that will include the team's home stadium.
Hosts & Suppliers
Don Staley has been named president and CEO of Tuscaloosa (Alabama) Tourism and Sports. Staley worked as executive director of sports for the same organization from 2010–2014. Most recently, he was executive director of sports for the city of Foley, Alabama.
The Cincinnati USA Convention & Visitors Bureau has hired John Browarsky as director of convention strategy and Jeff Simic as national sales manager. Browarsky most recently served as director of revenue management for Westin/Cincinnati. Most recently, Simic worked at Westin/Cincinnati as group sales manager.
Stephanie Nowack, president and CEO of the Tempe (Arizona) Tourism Offi ce, has announced that she will retire after more than 18 years with the organization. Before starting with the bureau in 1999, Nowack had worked at The Arizona Bank, Valley of the Sun United Way and Motorola.
SMG has announced a three-year partnership with the Detroit Regional Convention Facility Authority, under which it will continue to manage Cobo Center.
Sites & Venues
Mt. San Antonio College in Walnut, California, will host the 2020 U.S. Olympic Team Trials in Track and Field. Scheduled for June 19–28, 2020, the event will take place at Hilmer Lodge Stadium, which is undergoing a $62 million upgrade that is expected to be complete in 2019.
The 2019 International Weightlifting Federation Youth World Championships will be held at the Anaheim Convention Center in Anaheim, California. The venue will host the IWF World Championships starting in late November this year.
The Finley Center at the Hoover Metropolitan Complex in Hoover, Alabama, recently celebrated its grand opening. The Finley Center is a 154,000- square-foot facility that offers more than 89,000 square feet of space for sports, banquets, trade shows and a variety of events. Features include 11 basketball courts, 17 volleyball courts, three meeting rooms, an event lawn, a walking track and a food court.
Major League Baseball's Cleveland Indians and the Minnesota Twins will play a two-game series at Hiram Bithorn Stadium in San Juan, Puerto Rico, April 17–18, 2018. It will be the fi rst time either team has played in Puerto Rico.
Sponsors & Licensing
ESPN and USA Softball have announced a multiyear agreement that will establish the ESPN networks as the home of select World Cup of Softball games through 2020. ESPN will have the production and distribution rights for four USA Softball games and the championship game for each World Cup of Softball.
The NBA's Minnesota Timberwolves have announced a three-year partnership with Fitbit, making it the offi cial wearable and offi cial sleep tracker of the Timberwolves, WNBA's Minnesota Lynx and the Iowa Wolves. Fitbit will provide access to devices to all three teams, and its logo will appear on Timberwolves player uniforms beginning with the 2017–2018 season.
In other NBA news, Walt Disney World Resort has signed on as the Orlando Magic's first jersey sponsor. As part of the multiyear deal, the Disney logo will appear on players' jerseys starting with the 2017–2018 season.
The Western & Southern Open and FILA have announced a new partnership, making FILA the official apparel and footwear provider of the tennis tournament. FILA will outfit the more than 1,300 volunteers working the event as well as on-court personnel.
And Finally…
Tournament organizer OneHockey has partnered with the Michigan Amateur Hockey Association in an attempt to make the Holiday Invite 2018 the largest ice hockey tournament ever held. Guinness World Records has recognized the attempt to top the current tournament record, which was set at the 37th Annual Minor Hockey Week Tournament in Calgary, Alberta, in 2007. That event featured 664 teams with 10,992 players competing in 957 games on 42 sheets of ice. The Holiday Invite 2018 is expected to feature 1,000 teams with more than 18,000 players competing on more than 75 sheets of ice throughout the state.
This current issue of SportsTravel can be viewed in digital format online by clicking here.
|
Media Contact:
Timothy Schneider
310-954-2525
Northstar Travel Group, LLC


|