Los Angeles, CA – September 2017 / Newsmaker Alert / Each issue of SportsTravel contains information from the Press Box. SportsTravel is the sports world's event magazine.

Sports Organizations
|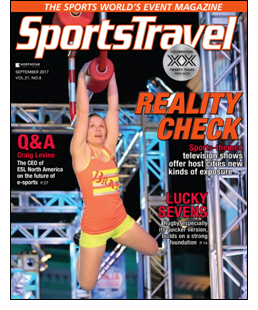 Brent Dewar has been promoted to the role of president of NASCAR, making him the fourth person to hold the title. Dewar most recently served as NASCAR's chief operating officer. Prior to that, he worked for three decades as an automotive executive.
In other NASCAR news, Brandon Igdalsky has been named managing director of event marketing and promotion. He most recently served as president and CEO of Pocono Raceway in Long Pond, Pennsylvania.
Sophie Goldschmidt has been named CEO of the World Surf League. Goldschmidt most recently served as group managing director at CSM Sport and Entertainment. She also has held executive roles with the Rugby Football Union, the National Basketball Association, the Women's Tennis Association and Adidas.
The NFL has appointed Jonathan Nabavi as vice-president of public policy and government affairs. Nabavi most recently served as majority counsel for the United States Senate Committee on the Judiciary.
The United States Olympic Committee has appointed Nicole Deal as chief security officer and David Zodikoff as chief information officer. Deal previously spent nearly 18 years with the U.S. Department of State, serving as regional security officer in Algeria, Kosovo and Venezuela. Zodikoff previously served as chief information officer at Association Member Benefits Advisors, The Pantry Inc. and Ambrose Employer Group.
Major League Baseball and the Washington Nationals have unveiled the official logo of the 2018 All-Star Game presented by Mastercard. The 89th Midsummer Classic will be held at Nationals Park in Washington, D.C., on July 17, 2018.
Hosts & Suppliers
Angela Adams Suggs has been appointed president of the Tallahassee-based Florida Sports Foundation and senior vice president of sports development for its parent organization, Enterprise Florida. Suggs most recently served as senior associate athletics director for external affairs and senior woman administrator at Florida A&M University.
John Reyes has been named chief operating officer of Visit Sacramento. He most recently served as executive vice president and chief sales officer at San Francisco Travel. He also previously served as president and CEO of the Monterey County (California) Convention & Visitors Bureau.
Site & Venues
Utah Olympic Park in Park City will host the U.S. Olympic Team Trials–Ski Jumping & Nordic Combined, which will determine the U.S. team that will compete at the 2018 Olympic Winter Games in Pyeongchang, South Korea. Park City-based U.S. Ski & Snowboard will produce the event with the U.S. Olympic Committee and the Utah Olympic Legacy Foundation, with additional support from the Utah Sports Commission and the Park City Chamber of Commerce and Visitors Bureau. The event will be staged December 30–31, 2017.
The 2018 USA Gymnastics Championships will be held at the Greensboro Coliseum Complex in North Carolina. Scheduled for July 3–8, the competition will include both Junior Olympic and elite levels. The Greensboro Area Convention & Visitors Bureau, Greensboro Coliseum Complex, Tournament Hosts of Greensboro, Greensboro Sports Commission and Sports & Properties Inc. are the local hosts for the event.
Sponsors & Licensing
Running USA has expanded its partnership with Ashworth Awards, making the company its official medallions and awards partner. Ashworth Awards will remain a presenting sponsor for the Running USA Industry Conference, scheduled for February 11–13, 2018.
USA Volleyball and Adidas have signed a multiyear partnership in which Adidas will serve as the official athletic footwear, apparel and accessory brand for USA Volleyball. Adidas also signed a multiyear partnership with Lauren Carlini, a member of the U.S. Women's National Team who won a gold medal at the 2017 Pan American Cup, to become the face of Adidas Volleyball.
Soccer United Marketing, Major League Soccer's commercial arm, has announced a sponsorship extension with AT&T, which will serve as the official partner of MLS, U.S. Soccer and the Federación Mexicana de Fútbol via the Mexican National Team U.S. Tour. AT&T will also become the presenting sponsor of MLS' Decision Day and continue as the official sponsor of the U.S. Men's, Women's and Youth National Teams.
And Finally…
To inspire young leaders to consider careers in food and agriculture, the Minnesota Super Bowl Host Committee has created the Land O'Lakes Farm Bowl, which will pit teams of current and former professional players and Land O'Lakes farmers against each other in a series of on-farm challenges. The event is scheduled for February 1, 2018, at the University of Minnesota in Minneapolis, just before Super Bowl LII is held at U.S. Bank Stadium in the same city.
Download/view above 'Press Box' (w/photos) via PDF
This current issue of SportsTravel can be viewed in digital format online by clicking here.
|
Media Contact:
Timothy Schneider
310-954-2525
Northstar Travel Group, LLC


|