Atlanta, GA – March 2018 / Newsmaker Alert / Travel South USA (TSUSA) is expected to have a record number of delegates at its annual Domestic Showcase.

Held March 18 - 21 on the Mississippi Gulf Coast, this year's delegates will be eating unique meals, conducting concentrated meetings and exploring the newly commissioned U.S. Civil Rights Trail. A state-of-the-art convention center, Mississippi Coast Convention Center, will be the headquarters for this Showcase while delegates will be housed in what several label the "crowning jewel of the Mississippi Gulf Coast" – The Beau Rivage Resort and Casino.
|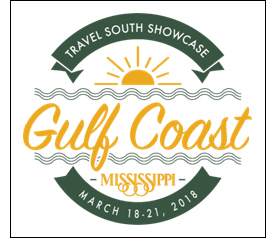 2018 will witness a ten percent increase in delegates over last year. In addition, the marketplace is expecting an increase of 30 percent new tour operators/ buyers consulting with 485 unique tourism organizations focused on selling the Southern United States. In total, 680 delegates will be in attendance.
Many consider Travel South Showcase, now in its 36th year, the premier marketplace event in the South where hundreds of tourism professionals gather for 3-days of intensive meetings with a goal of delivering more visitors, spending more time and more money in the South and showcasing the unique destinations within the region.
"Almost 700 travel and tourism professionals will convene on the Mississippi Gulf Coast at the 2018 Travel South Showcase," said Visit Mississippi Director Craig Ray. "Our tourism partners are eager to inspire them with Mississippi's unique music, cuisine and culture as they work to bring new visitors to our region."
Ten years ago (2008) was the last time this event was held in Biloxi when the area was still recovering from Hurricane Katrina.
Milton Segarra, CEO of Visit Mississippi Gulf Coast, said, "It is an honor to be hosting the 2018 Travel South Domestic Showcase, and we are excited to have the opportunity to showcase all that the Mississippi Gulf Coast has to offer, with events, city tours and dine-arounds taking place across our three Coastal counties."
"As the Mississippi Gulf Coast prepares to welcome close to 700 tourism professionals to the area, we are reminded of the utmost importance of the tourism industry, and how vital it is to the State and region as a whole. Working together is the key to bringing more visitors to the area, and we look forward to a future of increased visitation, deepened partnerships and broadened horizons," Segarra goes on to say.
In addition, a segment of Domestic Showcase that provides media coverage of Mississippi and the surrounding areas is the Showcase Journalist Program. Thirty-eight journalists from 34 organizations will give the region media coverage. Five pre-familiarization (FAM) tours that travel throughout Mississippi and Tennessee will showcase unique destinations, attractions and meals. While the majority of the media hail from the South, journalists from as far away as California will be attending and writing about the South. Also, at the inception of the marketplace, there will be a journalist reception that highlights the new U.S. Civil Rights Trail, giving the media new insights on this groundbreaking project.
The estimated economic impact of motorcoach travel is large. According to the American Bus Association Foundation, approximately $29 billion in overall economic impact (direct, supplier and inducted) was delivered to Travel South members states in 2016 from motorcoach travel. It is anticipated that sales in Travel South member states coming from motorcoach tourists totals $15.25 billion. Hotels in Travel South Member States provide group motorcoach tourists with an estimated 14.5 million room nights annually.
For more information on Domestic Showcase, visit: industry.travelsouthusa.com/showcase.
About Travel South USA
Travel South USA is America's oldest and largest regional travel promotion organization, formed in 1965. The long-standing regional collaboration of the state tourism offices of Alabama, Arkansas, Georgia, Kentucky, Louisiana, Mississippi, Missouri, North Carolina, South Carolina, Tennessee, Virginia and West Virginia provides a foundation to positively position tourism as a vital and dynamic element in the region's economic development. Tourism ranks throughout the region as one of the top three industries, behind manufacturing and agriculture, and is responsible for $133 billion in spending by visitors, generating 1.4 million direct jobs, $30 billion in worker paychecks, and almost $16 billion in state and local taxes. Visit TravelSouthUSA.com for consumer information and travel industry information, TravelSouthUSA.org.
|
Contact:
Angelica De Stefano / Coordinator,
Event Marketing & Communication
Travel South USA
404-231-1790
|
Travel South USA: Facebook / Twitter / YouTube
|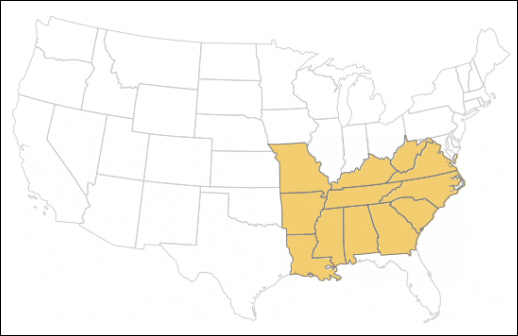 Travel South USA
|