Back To News/PR Index
|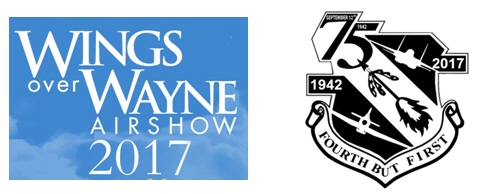 |
Top Air Show Returns to
Seymour Johnson AFB North Carolina May 20-21
|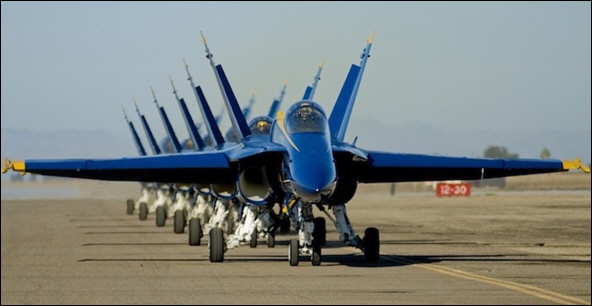 US NAVY Blue Angels
||

Seymour Johnson AFB – Goldsboro, NC – May 2017 / Newsmaker Alert / Celebrating the 75th Anniversary of the 4th Fighter Wing and military aviation in North Carolina, Seymour Johnson Air Force Base will open its gates to the public for the biennial Wings Over Wayne County Air Show, Saturday and Sunday, May 20-21, 2017.

Headlining the air show will be The Blue Angels, the US Navy's premier aerial demonstration team, performing a myriad of precise formations and maneuvers in six distinctive blue and yellow F/A-18 Hornet aircraft. Soaring at speeds of 120 to 700 mph, pilots will exhibit their extensive training and aircraft capability through a variety of extreme passes, rolls, tight turns, opposing passes, inverted flying, belly-to-belly flight, wingtip-to-wingtip formations, and the famous Diamond and Delta configurations.

"Wings Over Wayne is the top air show on the East Coast," said 2017 Air Show Director Maj. Matthew R. Olde. "We're looking forward to opening our doors and showcasing our air power and base with everyone." In 2015, the air show at Seymour Johnson AFB attracted over 220,000 spectators featuring the US Air Force Thunderbirds.

The Wings Over Wayne family-friendly weekend includes a 20,000 square feet Kids' Zone, occupying one of the largest aircraft hangars on the base. A $5 admission charge covers access to more than 15 attractions for the entire day, among them the Blue Angel Aircraft Carrier Slide, the 36 ft. Turbo Shuttle Slide, Space Camp Combo, Adventures in Aviation, Extreme Air Power Jump, the 52-ft Obstacle Course, and a lot more.

Seymour Johnson gates open at 8 AM. Ceremonies and demonstrations begin at 10 AM. Here is the tentative schedule for both May 20 and 21:
|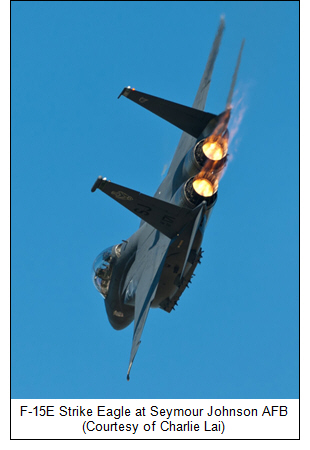 10:00 hours (Air Boss: George Cline)
Opening Ceremonies / Demonstrations Begin
National Anthem by Danika Portz
US Army Special Forces Black Daggers Parachute Demonstration Team
F-15E Strike Eagle Flyover (4-ship)
Smoke-n-Thunder Jet Truck
Jacquie B Air Shows
10:40 hours
B-2 Spirit Flyover (Saturday only)
Kevin Coleman Aerosports
The Lima Lima Flight Demonstration Team (6-ship T-34 Beechcraft)
T-33 Acemaker
Bill Stein Airshows
12:10 hours
Royal Canadian Air Force CF-18 Demonstration Team
Mike Wiskus with Lucas Oil Airshows Biplane Aerobatic Demonstration
12:40 hours
Tora! Tora! Tora! A re-creation of the attack on Pearl Harbor, featuring Japanese Zero aircraft
Kevin Coleman and Bill Stein Combined Performances
Combined Arms Demo featuring F-15E Strike Eagle; F-16 Viper; A-10 Warthog; T-38 Talon; and a JTAC ground coordinated demo
13:30 hours
F-15E Load Crew Demo
Air Force Drill Team Performance
Heritage Flight featuring P-51D Mustang; F-22 Raptor; A-10 Warthog
F-22 Raptor Demonstration Team
4th Fighter Wing 75th Anniversary Review Flight
Jet Truck Race
15:00 hours
US Navy Blue Angels Demonstration Team
Static displays include the: F-15E Strike Eagle; F-35 Lightning II; F-22 Raptor; A-10 Thunderbolt II; F-16 Fighting Falcon; F/A 18 E/F Super Hornet; C-17 Globemaster III; AH-60 Blackhawk; KC-135 Stratotanker; C-5 Galaxy; E-3 Sentry "AWACS"; T-38 Talon; T-1A Jayhawk; T-6A Texan II; KC-10; B-52H; C-130; CV-22; exotic automobiles; Civil Air Patrol; NC Highway Patrol; NASCAR; Vietnam-era helicopters; P-51 Mustang; Boeing Stearman; British Aerospace Bulldog; T-35; and, American Champion aircraft.
Additional displays include the SJAFB military working dogs, the Air Force Rifle Team, flight simulators, military equipment and other vehicles from several branches of the U.S. Armed Forces.
Seymour Johnson AFB gates will open at 8 AM on Saturday and Sunday, May 20 and 21. There will be free water distribution sites located throughout the flight line. Food, beverages, and souvenirs will be available for purchase. Admission and parking are free. Day passes for the Kids' Zone are $5. Seymour Johnson Air Force Base is in Goldsboro, North Carolina.
Seymour Johnson Air Force Base is home to the 4th Fighter Wing, consisting of approximately 7,000 people and 95 multi-role F-15E Strike Eagles. Formerly commanded by Chuck Yeager, the 4th Fighter Wing is one of the largest wings in the United States Air Force and has a highly decorated history spanning seven decades.
Photo Gallery and Press Archive
Contact:
4th Fighter Wing Public Affairs
Seymour Johnson Air Force Base
919-722-0027
4fw.pa.mediaops@us.af.mil
Media:
Robert B Butler, Communications | PR
www.NCPressRelease.org
www.RBButler.com
Permission granted for reprint and redistribution.
#SJAFB #SEYMOURJOHNSONAFB #USNAVY #BLUEANGELS #AIRSHOW #B2SPIRIT #F15ESTRIKEEAGLE #F35LIGHTNING #GOLDSBORO #NORTHCAROLINA #ROYALCANADIANAIRFORCE #TORATORATORA #USARMYBLACKDAGGERS #WINGSOVERWAYNE
|