Back To News/PR Index
|



|

How Leading Hotels Innovate by Solving Problems

|

Pierre Boettner - CEO and Founder

hospitalityPulse

|

Santa Cruz, CA – February 2018 / Newsmaker Alert / Lodging Magazine recently published its picks for the "Five Innovative Hotels of 2017," and in almost all cases the emphasis was on the décor and architecture. Floor-to-ceiling windows made a big splash, as did local artists, and various and sundry takes on the cocktail bar experience.
|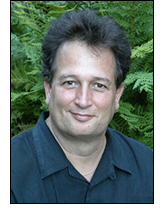 I love a good hotel as much as anyone, and there are several on this list I would certainly enjoy staying at; however, the term "innovative" here is a little misleading. Design-forward? Yes. Architecturally stunning? Certainly. Creative? Probably. Who can blame the magazine? Almost anything that purports to be about hotel innovation will be devoted to things that can be touched, seen, or felt by a guest. Only sometimes do they write about the functioning of a property—simply because not much has fundamentally changed over the years.

To be truly innovative, hotels must go beyond design. Hotels must instead solve a problem, a real problem. More often than not, it's an issue we didn't even realize could be, or needed to be solved. As Greg Satell, the author of Mapping Innovation, points out, "The most innovative firms aren't necessarily any more creative or even better at solving problems than most. Rather, what sets them apart was how they aggressively sought out new problems to solve."

An example from another industry. Everyone knew that mattress shopping was so lousy as almost to be counterproductive, and yet it had been the same for decades. Mattresses are one of the greatest comforts of our lives—humans in the West spend over 2,000 hours per year sleeping on one. But to buy one, we walk into a sterile and very public store, we lie down on five or six for a few minutes each, and after this, we commit to a major purchase, one that is expected to last for many years to come.

Enter direct-to-consumer mattress companies. Casper was among the first, then there was Tuft and Needle, and now even Serta Simmons has launched its own direct-to-sleeper brand. Where was the innovation? Learning how to package mattresses so that they could be delivered (and returned) with ease. What was the problem? The basic problem was a terrible buying experience. Casper CEO Philip Krim told Inc. Magazine, "In an industry where everything was just terrible, the bar could not be lower to do anything cool, unique, or fun." Along with the solving of that problem, distribution costs dwindled, so the consumer got big cost-savings. Then these new mattress firms took their marketing budgets and went nuts with highly effective messaging for a younger crowd about how they had changed not just the shopping experience, but how they were changing sleep. Success!

Back to hotels. Guests see past creative design. It is an important element that will give them feelings they want to feel when they walk in (relaxation, community, elegance… you name it), but that feeling is just one part of the experience. The problem is that for most hotels, lobby design or big windows have been defined long before and cannot be changed in the short term, and whatever they may be, they are just one part of the experience.

The problems that can lead to true innovation are the ones we've become accustomed to as simply "part of the business." EGroup notes that among the top ten guest complaints are cleanliness, timeliness (including check-in, check-out, and ancillary wait times), view, and room amenities.

Also among them: bed type and comfort. A closer look at the average hotel's bed-type fulfillment in the chart below shows the extent of the problem. At the peak hour of 3 p.m., out of nearly 350 arrivals, only about 225 bed-types can be fulfilled. Further, notice how bed-type fulfillment is higher in the morning (when guests shouldn't really be arriving) to the apparent detriment of bed-type fulfillment during the highest check-in window.
|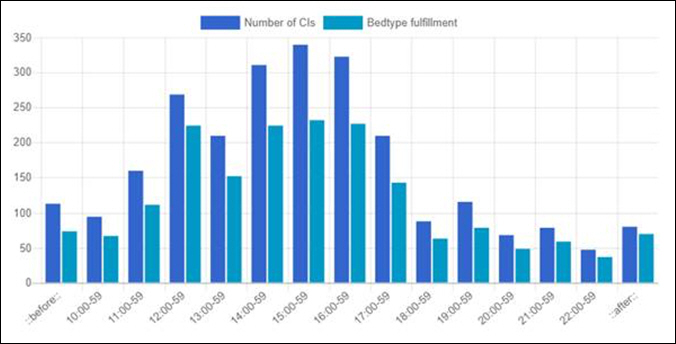 Source: insights by hospitalityPulse

|
How does the guest experience this? Guest A requested a Double—he travels alone and likes to use the extra bed to store his things—but received a King instead. Guest B requested, and with that assumed she had booked, a room near the elevator. Yet, upon arrival, that meant she would have to get a double bedded room, which was not what she had intended when booking this get-away after her husband's accident. Guest C booked a room for himself and his partner, but the front desk agent made the all-too-common assumption that they would be fine with two full beds, which was all that was available in the booked category when they checked in. The list could go on and on, and the degree of offense varies widely.

Less clear to most managers is how often these problems are happening and how much they cost the hotel operation. This is the problem that we seem to have resigned ourselves to, largely because legacy PMS's and distribution systems operate in silos and we're afraid to commit to a solution because we're afraid they can't be properly integrated.

insights by hospitalityPulse answers these questions so that hoteliers can now know the scope, and cost of these, today unavoidable, consequences of a disjointed booking process. Tracking every room assignment, managers can see clearly in which cases the booked room did not correspond with the assignment. For instance, insights shows clearly when upgrade and upselling activity coincided with other reservations being downgraded. The technology gives managers information about each agent's performance: who had the most check-ins, the least, the most check-ins with resulting assignment problems, and so forth.

For every guest that actively complains about an issue with the room they received, there are at least four that grimace and move on. What would happen if your hotel was the innovator that said, "We have this room assignment issue nailed. Stay at our property, and you will be guaranteed the room and the features you requested. Never again do you have to call ahead in hopes that it will help you secure the room you already said you wanted because we understand your room is important. It is our product, and we will deliver." Like Casper, you can solve the problem that doesn't seem fixable and follow it up with confidence-building messages about your innovation that will undoubtedly reach your customers. Create the expectation that this is what hotels do because isn't it what they were supposed to be doing all along?

As with any problem, before it can be solved, it must be analyzed. With insights, hoteliers get a grip on the scope of the problem at their hotels, both in terms of frequency and cost. It allows them to see and fully understand the return that can be achieved through automated room assignment. Only then can managers decide how to best proceed.

To be educated about insights by hospitalityPulse, a freemium product, click here.

About the Author: Pierre Boettner (Founder and CEO, hospitalityPulse)
Pierre Boettner spent his entire life between hotel operations and hospitality technology. In 1993 he pioneered an industry-first forecasting and pricing tool for Mövenpick Hotels and was later involved in many system innovations, helping hoteliers improve their distribution capabilities. Recognizing the increasing difficulty of managing rooms operations, he and long-time colleague Denis Bajet founded hospitalityPulse in 2013. This company has dedicated itself to solving the most complex operations tasks still requiring daily human intervention. Pierre Boettner is a graduate of the esteemed Ecole hôtelière de Lausanne.

About hospitalityPulse
hospitalityPulse was designed by hotel technology and operations veterans tackling one of the most difficult problems hotels are facing: room assignment and its direct effect on guest satisfaction. Our patent-pending optimization algorithms, combined with an intuitive user interface enable hoteliers to assign the optimal room for every guest, every time, with consistent efficiency. Using the multi-dimensional FIRE engine, hoteliers can rely on providing the booker with the trueAvailability™ of room and feature combinations on the dates selected. roomPulse dynamically optimizes each room assignment in real time, all the time. Visit us at www.hospitalityPulse.com.